CSX8000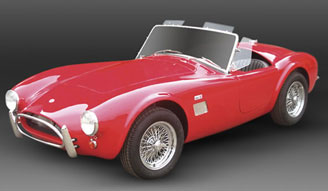 The CSX 7000 (289 FIA) and CSX 8000 (289 Street) are authentic recreations of the Shelby Cobra 289 models that started it all. The Shelby Cobra legend and racing success began with these cars, terrorizing race tracks around the world from 1962 through 1965.
Today's CSX 7000 and CSX 8000 component vehicles incorporate safety and performance improvements without sacrificing driving excitement or originality. >CSX 7000 bodies are available in fiberglass or aluminum, while CSX 8000 bodies are available in fiberglass only.
Specifications:
High Strength Fiberglass Composite Body
Original Frame Configuration With 3" Round Tube Main Rails, .120 Wall Thickness - 90" Wheelbase
Upper Transverse Leaf Spring With Lower Arms, Independent Front And Rear
Rack And Pinion Steering
Bear Brakes With Shelby Inscribed Calipers
Shelby Aluminum Differential Housing, Dana 44 Gears, 3.54 Ratio.
Aluminum Fender Closeout Panels, Front And Rear
Windshield Wipers, Wind Wings And Sun Visors
16" Original Style Wood Rim Steering Wheel
Painted Heavy Duty Spoke Rims (CSX 8000)
Signature Series Auto Meter Gauges
4-Core Aluminum Radiator
18-Gallon Fuel Cell
Options:
Aluminum Body Available for CSX 7000 Series
Show Quality Paint- Red, Black, And Guardsman Blue, Navy Blue, And Pacific Blue.
Chrome Heavy Duty Spoke Rims (CSX 8000)
Leather Interior Packages.
Side View Mirrors.
Alternate Rear End Ratios
Fia Lexan Racing Windshield
Oil Cooler Assembly (CSX 7000)
Heater/Defroster
Custom Car Cover
Tonneau Cover
Map Pockets
Floor Mats
Call 702-785-0090, ext 1 or fill out our contact form.