Shelby Daytona Coupe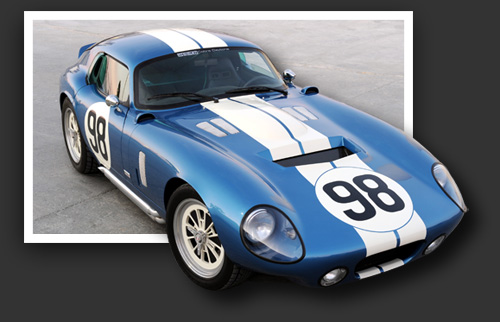 The Shelby Daytona (also referred to as the Shelby Daytona Cobra Coupe) was a coupe based loosely on the AC Cobra roadster. It was built for auto racing, specifically to take on Ferrari in the GT class. Just six Daytona coupes were built in 1964 and1965, with Shelby reassigned to the Ford GT40 project after that. Pete Brock designed the car's bodywork, while Bob Negstad designed the car's suspension. Negstad also designed the chassis and suspension for the GT40.
Racing Success
1964 12 Hours of Sebring (GT class win, Dave MacDonald/Bob Holbert
1964 24 Hours of LeMans (GT class win, Dan Gurney/Bob Bondurant)
1964 RAC Tourist Trophy
1965 24 Hours of Daytona
1965 12 Hours of Sebring
1965 World Manufacturers Championship
1965 Italian Grand Prix at Monza (GT class win)
1965 German Grand Prix at Nurburgring (GT class win)
1965 French Grand Prix at Reims (GT class win)
1965 Enna-Pergusa (GT class win)
1965 23 land speed records at Bonneville
Call 702-785-0090, ext 1 or fill out our contact form.