CSX4000 / CSX6000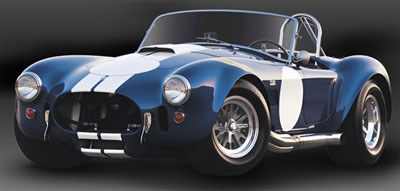 The Shelby Cobra is arguably one of the world's most famous and recognizable sports cars in history. Today's CSX4000 / CSX6000 Series 427 S/C component vehicles from Shelby Automobiles, Inc. are everything the 1965 models were, and more. The authenticity of each vehicle is documented by Shelby CSX numbers and a manufacturer's Statement of Origin (MSO) from Shelby Automobiles signed by Carroll Shelby himself. Improvements include a stronger steel frame and better alloys used in the components, plus better cooling and additional heat shielding to make these cars safer and more drivable without losing any of their original character. With 0-60 MPH under four seconds, and 12 second quarter mile performance, you'll know exactly what it's like to drive a true American legend. Bodies are available in fiberglass, carbon fiber and aluminum. Performance specifications listed are derived from a CSX4000 / CSX6000 component vehicle equipped with a customer installed aluminum block Shelby 427 cubic inch V8.
Standard Equipment:
High Strength Fiberglass Body
Show Quality Paint (assorted colors available)
Original Frame Configuration: 4" round tube main rails, .120 wall thickness, 90" wheelbase
Original Four Wheel Independent Suspension with Dual A-Arms and Coil-over Shocks
Rack & Pinion Steering
Baer Brakes with Shelby Inscribed Calipers
15" Halibrand Style Pin Drive Wheels
Headers & Side Pipes
Shelby Aluminum Differential with Dana 44 Gears, 3.54 to 1 Ratio
S/C Dash Layout with Signature Series Auto Meter Gauges
15" Original Style Wood Rim Steering Wheel
Windshield Wipers, Wind Wings, and Sun Visors
Aluminum Fender Closeout Panels, Front and Rear
Full Carpeting, Including Trunk
Chrome Roll Bar
4 Core Aluminum Radiator
23 Gallon Fuel Cell
Options:
Aluminum or Carbon Fiber Body
Choice of FE Big Block, 351 Windsor, or 302 Exhaust Headers
Jet Coated Headers and Side Pipes, Side Pipe Heat Shields
Leather Interior Package
Street Car Interior with Glove Box and Side View Mirrors
Chrome Bumper Over Riders, Front and Rear
Chrome Hoop Bumpers, Front and Rear
16" & 17" Wheel and Tire Packages
Differential Oil Cooler System
42 Gallon Racing Fuel Cell
Lemans Striping Package
Heater/Defroster
Door Map Pockets
Floor Mats, Tonneau cover, Custom Car Cover
Call 702-785-0090, ext 1 or fill out our contact form.